Posted by Spectrum Golf on Jul 28th 2022
THE BEST GOLF SCREENS FOR 2022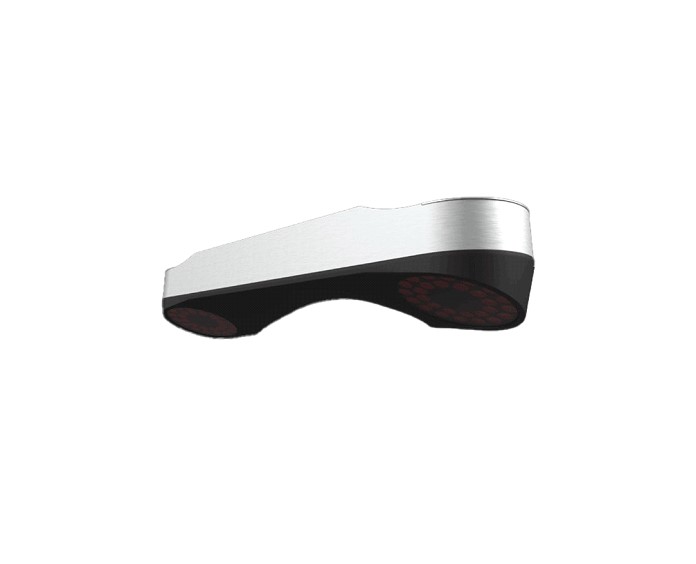 WHAT IS THE BEST GOLF SCREENS ON THE MARKET TODAY?
Golf screen material has come along way in the last several years. Screens used to be extremely stiff , hard and unforgiving. Bounce back was always an issue. To increase durability, screens had to have a slight grain to them which greatly effected image quality.
With advancements in yarn and weaving, golf screens now combine low bounce back, extreme durability and outstanding image quality. We are going to review 4 golf screen options and help you select which one is right for you
THE BEST GOLF SCREEN ON THE MARKET IS POLY SPACER.

Our philosophy on golf simulators is to always buy the best screen and best golf mat. Those are the 2 components that are impacted on every shot!
We have our poly spacer golf screen material manufactured right here in North Carolina.
Our new poly spacer screen material is the highest quality golf screen material on the market today. It combines a cushion between 2 layers. This material is 3 times as thick as our standard screen material. The cushion eliminates bounce back and absorbs the impact of even the longest drivers of the golf ball. The tightly wound poly material is smooth as silk and provides a great HD image for your golf simulator or home theater. This golf screen material was initially designed for the commercial golf simulator market, but Spectrum golf has made it available to the retail consumer. As an added bonus, you do not need a backing on this screen.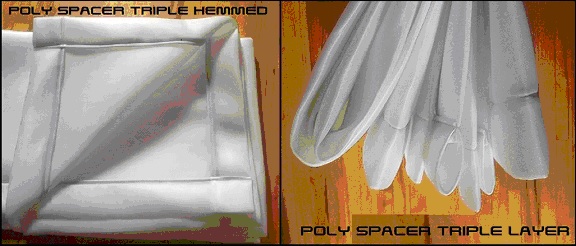 CLICK HERE TO LEARN MORE
POLY BLEND 95 GOLF SCREEN. THE BEST VAULE IN IMPACT SCREENS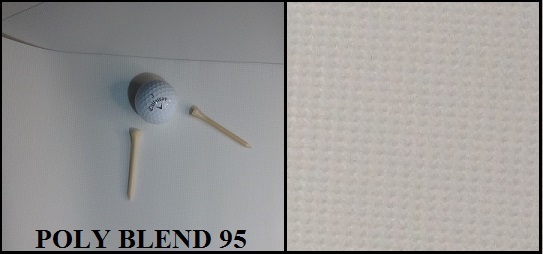 Poly Blend 95 golf screen is our second generation poly screen. It has the durability of the original poly screen with a more smooth tightly woven finish. It is recommended to have a net or panel behind it . Our new poly blend 95 material is the best value in golf impact screens . Designed for the home/residential golf simulator market, this screen material combines durability, low bounce back and a great HD image in an affordable golf impact screen.
1) BOUNCEBACK- The weave and impact resistant polyester used in this screen was designed to allow some stretch when impacted by a golf ball. We tested with a wedge thru a driver and bounce back is minimal.
2) STAIN RESISTANT- The polyester material has a smooth coated feel to it. Dirt stains wash off much easier with hot water and a stain spray.
3) WRINKLE RESISTANT- The heavy duty, tight knit impact resistant polyester eliminates most wrinkles in shipping.
4) CLEARER HD IMAGE-Since the golf screen is tightly woven, the image is crisper and clearer than our supertex material.
5) GREAT PRICING- We were able to secure a great price on this new material. Screen will start at under 175 dollars!!
6) DURABILITY- Ball speeds up to 250 mph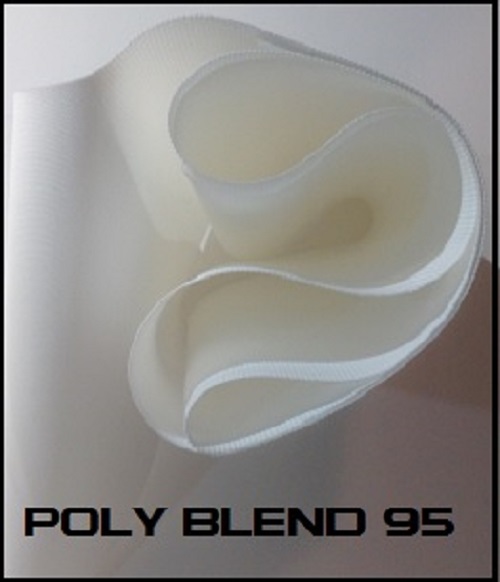 CLICK HERE TO LEARN MORE
SUPERTEX GOLF SCREEN. GREAT ENTRY LEVEL SCREEN FOR LOWER SWING SPEEDS

The supertex golf screen is our original golf screen. It is an entry level screen with good durability, good image quality and is made in the US. Requires a pad or panel behind it. Bounce back is higher than the poly spacer or poly blend. If you have lower swing speed, children or seniors, this screen is a great value. Great for home theater and occasional golf use.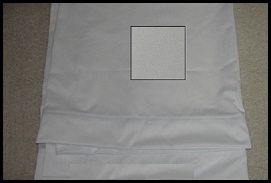 CLICK HERE TO LEARN MORE
ORIGINAL POLYGOLF SCREEN. A DURABLE OPTION TO THE SUPERTEX SCREEN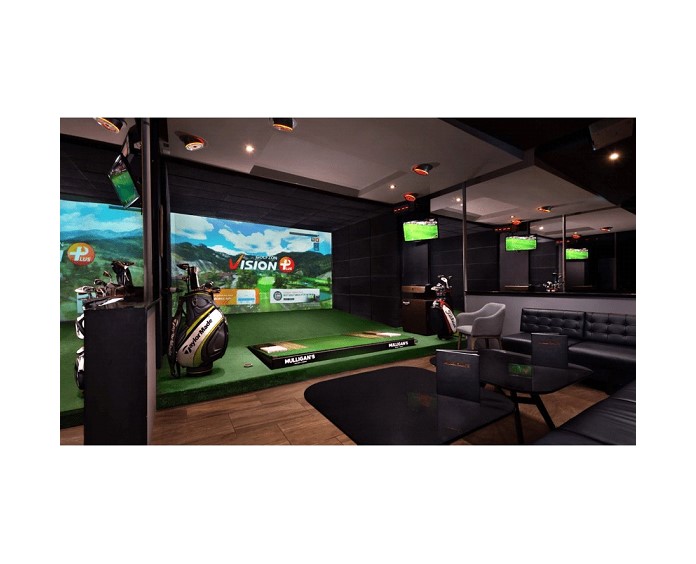 If you are looking for durability at a reasonable price, the poly screen is for you . Next to the poly spacer, the poly screen is the most durable screen we sell. does have some stretch to it , so bounce back is lower than supertex. Has a nylon coating feel to which makes it more stain resistant than the supertex. The downside is the screen has a slight grainy look to it, so image quality is lower . If you have average swing speed and want a durable golf screen, poly is best choice.
CLICK HERE TO LEARN MORE
CONCLUSION
If you can afford it, get the poly spacer golf screen. You will not be disappointed by the quality, image, bounce back and durability. 75% of our customers buy the poly spacer. Its the Pro V of golf screens!! If you are on a budget, get the poly blend 95. If you are looking for a golf screen that you can roll up ( we sell those as well ) . The poly blend is your best option. The poly spacer is way too thick to roll up on a sports screen. Remember that all of our golf screens are made and sewn in the USA direct. We can custom make any screen to fit your application.
CLICK HERE TO LEARN MORE